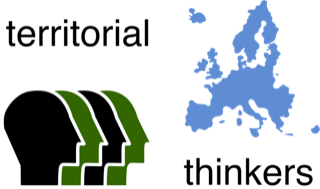 Aims and approach
Territorial Thinkers is an independent platform of experts, highly experienced in European, national, regional and local policy development with a territorial dimension. Territorial Thinkers aim to support on-going policy development processes by presenting arguments, evidence, ideas, options and recommendations to policy makers. Territorial Thinkers are convinced from experience that a clear territorial dimension in policy conception and in programme strategies and implementation releases a new innovative and cooperative dynamism which should be captured and used positively to achieve European policy objectives.
Why?
As EU policy developed during the late '80s and '90s as a result of major new impulses such as the Single Market and increasing environmental consciousness, so too did the realisation that there was a territorial dimension to that policy. Regional policy, trans-European networks and several environmental policies were by nature inherently territorial. In addition, there was a need to 'territorially coordinate' increasing European investments and avoid, for example, environmental and industrial or infrastructural investments becoming conflictual in the same area.
How?
The idea is to bring together the experience and insights of 'out-of-the-box' territorial thinkers to discuss important and relevant matters, and present rational and sharp arguments for a stronger territorial dimension of European policy-making.
Territorial Tunes
In short briefing papers the territorial thinkers offer some reflections to stimulate further debate.