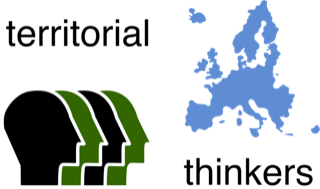 Aims and approach
Territorial Thinkers is an independent platform of experts, highly experienced in European, national, regional and local policy development with a territorial dimension. Territorial Thinkers aim to support on-going policy development processes by presenting arguments, evidence, ideas, options and recommendations to policy makers. Territorial Thinkers are convinced from experience that a clear territorial dimension in policy conception and in programme strategies and implementation releases a new innovative and cooperative dynamism which should be captured and used positively to achieve European policy objectives.
Why?
As EU policy developed during the late '80s and '90s as a result of major new impulses such as the Single Market and increasing environmental consciousness, so too did the realisation that there was a territorial dimension to that policy. Regional policy, trans-European networks and several environmental policies were by nature inherently territorial. In addition, there was a need to 'territorially coordinate' increasing European investments and avoid, for example, environmental and industrial or infrastructural investments becoming conflictual in the same area.
How?
The idea is to bring together the experience and insights of 'out-of-the-box' territorial thinkers to discuss important and relevant matters, and present rational and sharp arguments for a stronger territorial dimension of European policy-making.
KREMER - the Territorial Thinkers' Blog
KREMER is a platform where proponents of territorial thinking and a territorial approach to European and transnational policy development can express their opinions, ideas, recommendations and personal thoughts on this many-sided and complex subject. The postings on KREMER are, of course, the opinion of the individual author(s).
KREMER refers to Gerard de Kremer, a Flemish cartographer, geographer and cosmographer, better known as Mercator for creating the 1569 world map based on a new projection.

See all KREMER contributions HERE.
January 2020 - European Green Deal, the territorial dimension
Contribution by Kai Böhme

In January 2020, the European Commission presented its proposal for the European Green Deal Investment Plan and the Just Transition Mechanism. Many details of which will be further developed and polished in the near future.
Still, the proposal is remarkable from a territorial point of view.It fuels some optimism that the need for territorial thinking finally has hit home in European policies. The current proposal gives hope, that we will have an overarching policy, that is highly place-sensitive, rather anticipatory to local and regional development challenges, supports an integrated governance and acknowledges the importance of territorial development plans and the interdependencies between places. If all this territorial thinking is followed through, the transition of Europe to a thriving carbon-neutral society and prosperous economy might actually work out.
Territorial Tunes
In short briefing papers the territorial thinkers offer some reflections to stimulate further debate.