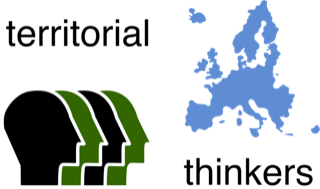 Aims and approach
Territorial Thinkers is an independent platform of experts, highly experienced in European, national, regional and local policy development with a territorial dimension. Territorial Thinkers aim to support on-going policy development processes by presenting arguments, evidence, ideas, options and recommendations to policy makers. Territorial Thinkers are convinced from experience that a clear territorial dimension in policy conception and in programme strategies and implementation releases a new innovative and cooperative dynamism which should be captured and used positively to achieve European policy objectives.
Why?
As EU policy developed during the late '80s and '90s as a result of major new impulses such as the Single Market and increasing environmental consciousness, so too did the realisation that there was a territorial dimension to that policy. Regional policy, trans-European networks and several environmental policies were by nature inherently territorial. In addition, there was a need to 'territorially coordinate' increasing European investments and avoid, for example, environmental and industrial or infrastructural investments becoming conflictual in the same area.
How?
The idea is to bring together the experience and insights of 'out-of-the-box' territorial thinkers to discuss important and relevant matters, and present rational and sharp arguments for a stronger territorial dimension of European policy-making.
KREMER - the Territorial Thinkers' Blog
KREMER is a blog where friends of territorial thinking publish short opinions, ideas, recommendations and optioning thoughts on European, national, regional and local policy development with a territorial dimension. The KREMER blog wants to stimulate debate and promote innovative and cooperative dynamics which can be captured and used positively to achieve European policy objectives.
KREMER refers to Gerard de Kremer, a Flemish cartographer, geographer and cosmographer, better known as Mercator for creating the 1569 world map based on a new projection.
See all KREMER contributions HERE.
December 2019 - Rural truth(s)?
Guest contribution by Kaisa Lähteenmäki-Smith
As Finland contemplates its future development in light of its declining birth-rate, ageing population and low immigration, questions reverberate around future perspectives and aspirations in respect of the ability of public policy to impact these developments. The shrinking workforce and the growing number of retired people provide a potentially significant challenge. To promote a positive message in the circumstances of negative messages being the norm takes courage. Tytti Määttä, Mayor of Kuhmo, a municipality on the Finnish-Russian border, and Finland's most influential spokesperson for rural areas, recently published an excellent column "Vitality to the countryside with a five-point programme". With Tytti's permission, I will paraphrase and build on her points here (relating to the rural areas) and consider them in the broader perspective of the good life in shrinking regions. I think they provide excellent reminders and positive encouragement and motivation for us all, whether speaking of Finland, or anywhere else.
Territorial Tunes
In short briefing papers the territorial thinkers offer some reflections to stimulate further debate.