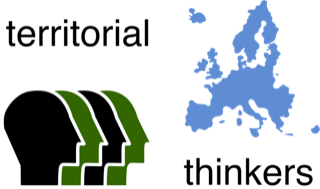 Aims and approach
Territorial Thinkers is an independent platform of experts, highly experienced in European, national, regional and local policy development with a territorial dimension. Territorial Thinkers aim to support on-going policy development processes by presenting arguments, evidence, ideas, options and recommendations to policy makers. Territorial Thinkers are convinced from experience that a clear territorial dimension in policy conception and in programme strategies and implementation releases a new innovative and cooperative dynamism which should be captured and used positively to achieve European policy objectives.
Why?
As EU policy developed during the late '80s and '90s as a result of major new impulses such as the Single Market and increasing environmental consciousness, so too did the realisation that there was a territorial dimension to that policy. Regional policy, trans-European networks and several environmental policies were by nature inherently territorial. In addition, there was a need to 'territorially coordinate' increasing European investments and avoid, for example, environmental and industrial or infrastructural investments becoming conflictual in the same area.
How?
The idea is to bring together the experience and insights of 'out-of-the-box' territorial thinkers to discuss important and relevant matters, and present rational and sharp arguments for a stronger territorial dimension of European policy-making.
KREMER - the Territorial Thinkers' Blog
KREMER is a platform where proponents of territorial thinking and a territorial approach to European and transnational policy development can express their opinions, ideas, recommendations and personal thoughts on this many-sided and complex subject. The postings on KREMER are, of course, the opinion of the individual author(s).
KREMER refers to Gerard de Kremer, a Flemish cartographer, geographer and cosmographer, better known as Mercator for creating the 1569 world map based on a new projection.

See all KREMER contributions HERE.
March 2020 - Territory matters in times of corona
Contribution by Kai Böhme

"Territory matters" has got a new meaning these days, as do some other spatial planning and regional development concepts. The following is a brief reflection on what the corona virus does to us in territorial policy terms, such as disruptive innovation, territorial interdependencies, administrative borders, spatial and societal fragmentation, place-based approaches, sustainable land-use or digitalisation.
How all this will affect spatial development and policy making in the years to come deserves close attention and a lot of interesting and hopefully stimulating discussions. What will be the lasting territorial impacts of changing societal preferences, behaviours and economic activities?
Territorial Tunes
In short briefing papers the territorial thinkers offer some reflections to stimulate further debate.