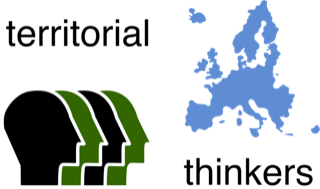 Why ?
As EU policy developed during the late '80s and '90s as a result of major new impulses such as the Single Market and increasing environmental consciousness, so too did the realisation that there was a territorial dimension to that policy. Regional policy, trans-European networks and several environmental policies were by nature inherently territorial. In addition, there was a need to 'territorially coordinate' increasing European investments and avoid, for example, environmental and industrial or infrastructural investments becoming conflictual in the same area.
At the same time, the territorial continuity of natural and economic networks has always been seriously interrupted by strong political and administrative boundaries, themselves to a large degree the result of arbitrary political and social movements and conflicts in the past. Particularly since the rise of the national state, 'territory' has come to be strongly associated with national sovereignty, and this phenomenon has always hampered the development of the territorial dimension of EU policy. Nonetheless, considerable progress has been made in the course of the past 30 years to address this issue. One result of this work has been to expose the increasing discrepancy between political-administrative boundaries and spatial-functional 'boundaries' (or rather transitions). In trying to deal with this phenomenon, this in turn has led to a number of programmes and instruments and even to the addition of the aim of 'territorial cohesion' in the Treaty.


However, the present-day popular fear of the processes and impacts of globalisation and 'loss of control' from international collaboration, has led to a return movement to the supposed security of the national state. In this socio-political climate, there is, at present, little interest in further developing the territorial dimension of EU policies. Further suggestions for policies that take into account the consequences and opportunities related to a more focussed territorial approach have almost dried up. Yet these consequences and opportunities will not go away, nor will the price of ignoring them. Given the present global geo-political and economic realities and the peace and prosperity achieved up until now, there is no way the European 'project' can be reversed. The EU will, however, have to adapt to a changing world, and, despite the political challenges this will involve, increased attention to the territorial dimension of EU policies will inevitably be part of that change.


Just how it will be part of that change is the challenge the Territorial Thinkers are setting themselves. Their aim is therefore to expose and explain this inevitability and to promote evidence-based and innovative options and recommendations to policies, seen from a territorial perspective
How?
The idea is to bring together the experience and insights of 'out-of-the-box' territorial thinkers to discuss important and relevant matters, and present rational and sharp arguments for a stronger territorial dimension of European policy-making.


Territorial Thinkers should meet a number of conditions:
Neutrality. Territorial Thinkers are independent and free of institutional, commercial or political ties or obligations. In that sense they can choose their topics and develop and present their ideas and arguments in the way they see fit. This provides an opportunity that formal institutions like the European Commission and ESPON do not have due to a lack of consensus, formal limitations, internal restrictions, political concerns etc., stemming from their European and intergovernmental policy context.


Policy relevance. The basic idea is to choose and debate actual policy matters where the territorial dimension may benefit from a sharpening up of the argumentation. Besides understanding the matter, the focus of the debate is on identifying key messages from a European perspective that can convince relevant decision-makers. The potential impact of the arguments is as important as the arguments themselves, and constructive ideas for the future are more important than just criticism of the present.


Punchy messages and outputs. Following up on the discussion, the idea is to draft short and punchy, readily accessible and appealing texts in order to facilitate the uptake of the messages and ideas in policy debates and developments. The aim is to publish these texts in succinct yet widely read forms such as Territorial Thinkers' Briefings, direct mails, tweets, blogs and/or newspaper columns or articles.


Efficient and targeted communication and dissemination. Once a text has been drafted, its distribution to relevant target groups and key policy-makers must be part of a specific communication strategy for that text. Although the territorial perspective is European, the target groups will include all levels and areas of decision-making in Europe, from European Institutions and programmes, to national, regional and local authorities and territorial interest groups, all depending on the specific topic. From time to time, that strategy will include some lobbying and presentations in person in addition to the communication/dissemination of texts.