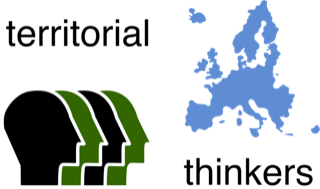 KREMER - the Territorial Thinkers' Blog
KREMER is a blog where the Territorial Thinkers and friends publish short and optioning thoughts on European, national, regional and local policy development with a territorial dimension. The intention is to stimulate debate and and innovative and cooperative dynamism which should be captured and used positively to achieve European policy objectives.
KREMER refers to Gerard de Kremer, a Flemish cartographer, geographer and cosmographer, better known as Mercator for creating the 1569 world map based on a new projection.
If you want to make a contribution to this section, please do contact us.
April 2019 - Unity on the development of the EU territory
While the world is turning and rapidly growing ever more interdependent, European political leaders are engaged in discussions leading to break-up (Brexit) and less commitment to European unity (in particular Hungary, Poland and Italy). Some leaders, like president Macron in France, try to pull in the opposite direction by advocating a revival of the European cooperation. The size and influence of the EU in the world should in fact in times of globalisation lead everyone to opt for a strong and united EU.
One policy area has hitherto slipped the attention of EU leaders, this despite (nearly) all policies and activities have a territorial impact. They take place somewhere, changes the space and the place specific conditions for people and enterprises.
May 2019 - What does 'slowbalisation' mean for intra European flows and cooperation?
While the economic leaders discussed globalisation 4.0 at the 2019 World Economic Forum in Davos, we might actually see that globalisation has peaked. In the issue of 26th of January 2019, the Economist outlined that globalisation slows down markedly, and that we might enter a period of 'slowbalisation' with lesser global integration. In short, 'slowbalisation' is expected to be a shift towards geo-regional blocs (e.g. Asia, North-America, Europe), with deeper intra-regional links and shorter supply chains.