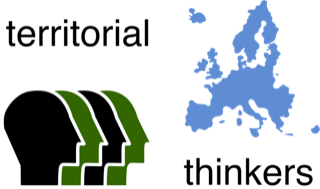 KREMER March 2020
Territory matters in times of corona
Spatial reflections on a disruptive challenge
by Kai Böhme
"Territory matters" has got a new meaning these days, as do some other spatial planning and regional development concepts. The following is a brief reflection on what the corona virus does to us in territorial policy terms:
'Disruptive innovation' has been a key term in many regional development debates over the past years. It was mostly thought of in terms of digitalisation and the 4th industrial revolution leading to innovations which disrupt (or even replace) existing markets and value chains with their established services, products and market leaders. Often thoughts went to new services, new products or new ways of how to produce these. Well, corona is sort of a "new product" which is clearly disruptive. It disrupts the way we organise our everyday lives, and it shows signs of putting existing market players out of business. Examples are airlines, hotels, restaurants, or people working in the cultural sector being pushed towards bankruptcy. At the same time, it offers chances to new players, e.g. in the field of distance learning, telemedicine or online services like entertainment, shopping and delivery.
Territorial interdependencies and globalisation appear to be more tangible these days. The way the corona virus spreads and travels around the world and within Europe showcases how tightly networked we are. Indeed, what happens (e.g. corona outbreak) or stops happening (e.g. production) in one place affects other places as the virus travels, and value chains or travel plans are interrupted. In a few years from now, the chronology of pandemic virus infections and the breakdown of value chains will be subject to many studies analysing geographical networks of our society and economy.
Territory matters in a new way in policy making. While the corona virus could not care less about territorial borders, we witness reflexive calls by people and decision makers for national solutions. Territories matter as national borders, and in some cases also municipal or regional borders are locked down. People are asked or ordered to not leave their country or even their neighbourhood, as decision makers try to protect their territories and keep 'the enemy' at bay, i.e. in the neighbouring territory. The helplessness of these reflexive responses underlines the increasing misalignment of political-administrative jurisdictions and spatial impacts of developments and policies.
Spatial and societal fragmentation increases as consequence of the prevailing reflexive responses to the disruptive challenge posed by the corona virus. In recent years, there has been a lot of debate about Europe and its places disintegrating due to growing spatial and societal disparities, and places being left behind. Unilateral responses – putting "my territory first" – to the shared and cross-cutting challenges posed by the corona virus, risk accelerating fragmentation trends. This concerns fragmentations within society as certain groups are more exposed and more impacted than others, as well as fragmentation between places and in particular between EU Member States.
Place-based approaches can thus be seen in a new light in the context of corona. Restrictions of free movement even within countries or regions, cast the limelight on the local level. Local service provisions, shops, pharmacies and health care are seen in a new light as compared to large scale service infrastructures and shopping malls which suddenly are out of reach. The new understanding of "territory matters" and its local fragmentation showcase the virtues of decentralised and polycentric structures. Certainly, also this is a new interpretation of place-based approaches.
Sustainable land use may also see different interpretations before and after corona. Just a few weeks ago, "no net land take" was a key idea of sustainable land use and planning. The benefits of urban density and a sharing economy with co-working and co-living spaces were undisputed. In times of recommended or prescribed cocooning, density and sharing concepts come with an air of health risks. Living in a small central apartment in the middle of a buzzing city is different in times when one may not leave the building. The romantic picture of countryside living starts becoming even more rosy for many right now. If the healthy environment dimension of sustainable development is re-interpreted, what does that mean for sustainable land use concepts in future?
Digitalisation is surely taking the first prize. We can assume a lasting impact of the corona experience on changed attitudes and service provisions in a more digital world. Telemedicine, distance teaching, the office at home, video meetings/conferencing, online entertainment and shopping will be looked upon differently in future. In many areas we may even see new uses, applications, solutions and services emerging. The breakout of corona as a 'disruptive innovation' may actually become the springboard for many more long-awaited disruptive innovations and their breakthrough in a more digital world.
How all this will affect spatial development and policy making in the years to come deserves close attention and a lot of interesting and hopefully stimulating discussions. What will be the lasting territorial impacts of changing societal preferences, behaviours and economic activities?
About the author:
Kai Böhme, is member of the Territorial Thinkers and founder and director of Spatial Foresight.